News
When? Feb 1st, 2021 - Feb 7th , 2021
What is it? The Eagle Rush is a jog-a-thon.
The Premiere Fundraising Event
for the Curtner Elementary School Parent Teacher Association.  It promotes health, fitness, parent involvement and community. Find out more by visiting the
Eagle Rush Website
. We appreciate your
generosity
.
Why do we need to raise funds? As you're probably well aware of, school funding is always a challenge. California changed the way it funds schools in 1978, and suddenly budgets were cut in half from one year to the next. As a result, many programs were cut and the full comprehensive curriculums we had known became a thing of the past. Private organizations like PTA stepped in to help bridge that gap. This year is specially challenging.
Where does you money go? Check out our budget to find out.
>>>
We won't be doing sales based fundraising (example: chocolate, candles, cookie dough, etc.).
We only do one BIG fundraiser, the Eagle Rush and one Donation Drive, plus we partner with local businesses like restaurants to raise funds.
New Year? Yes please!  :) Here's to better times ahead for us all, dear Curtner families and staff!
Curtner PTA would like to wish you very Happy Holidays and a safe and healthy 2021.
We leave you with this video. Enjoy!
Curtner PTA Brings Math Challenge Tournament (MCT) to Math Enthusiasts. Traditionally Curtner has ranked at the national level in this tournament. 
When: Saturday, Dec 12, 2020
Where: Online  (Details will be shared post registration)
Details and Registration: https://www.ellipsisacademy.com/fall-2020-math-challenge-tournament.html.

Registration Closes: Nov 23rd at 8pm
Please enter 3 digit code: 129
Curtner Elementary PTA will receive 15% back
Our school participates in the MCT School Give Back Program. 15% of the registration fees will be given back to our school's PTA, if students/parents provide our school's 3-digit code during registration. Our school's code is 129.  Please enter this code during student registration.
All registered students will receive a certificate of participation. Students who are in the top 10% in their grade level and division nationally will earn medals.  Student who scores the highest overall in their grade level and division will be awarded with a special math pin.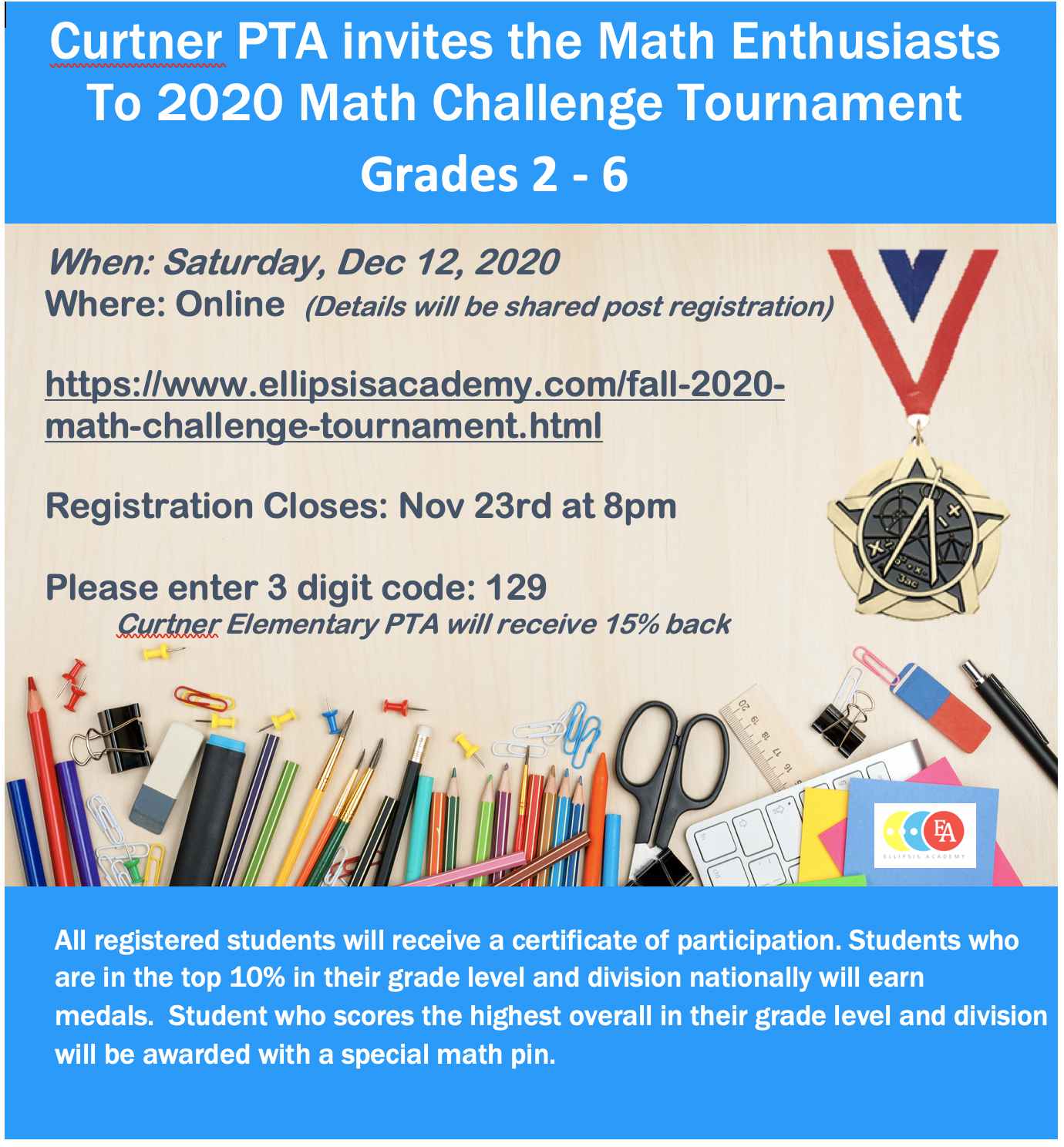 Curtner PTA is excited t announce that we will continue to run the Math Olympiad program for kids in grades 4-6 for the 2020-2021 school year.
We are thankful to Mrs. Park and Mr. Carder (Curtner PICO - Person In Charge of Olympiad) for supporting the program.
The program will start as an online contest and move to in-person format as and when we transition to in-person classes. We encourage all interested students to give Math Olympiad a try, you never know when passion might ignite!
Curtner Math Olympiad is run with the purpose to provide an opportunity for kids to think critically. Parents/guardians MUST read the full details prior to sending questions.
To register your student please click here to fill out the registration form

Deadline for registration :  
Oct 25th, 2020

Registration will be capped at 70 kids and will be on a first come first served basis.
For more information and full details, please go to PTA Activities tab > Math Olympiad or click 
HERE.
We would like to inform you that we are resuming the Community Discount Cards sale

 
(while supplies last).
We are only accepting online payment at the moment. No cash purchase.
Click HERE to purchase your Community Discount Card.
You can choose to receive your Community Discount Card by mail or pick up at school.
If you choose to pick up your card at school after purchase, please make sure to show the office your proof of purchase.
Curtner PTA will continue to run The Math Challenge Program for the school year 2020-2021!
Given that 2020-2021 is a special year, PTA will not be collecting results. We are discontinuing the reward system starting this year. This is an opportunity for Curtner students to explore some challenging Math problems at home and bond with their parents/guardians.
The program started Friday (9/25/20) and will run with biweekly challenges posted until 05/07/2021 for a total of 15 challenges through the school year.Here are the details for The Math Challenge Program:

Program Name
Math Challenge (Math Enrichment at Home)


Grades
K-6
Organization
Ellipsis Academy
Program Description 
A free school-wide math enrichment program consisting of a series of challenging and interesting math problems with the goal to promote critical thinking, encourage love for math, and provide bonding time with parents.
Guardians print challenge, check solution, and grade their own children.
Registration Date 
Registration not required
Opens September 25th
Program Details, Materials & Dates
http://www.mathinaction.org/curtner-elementary.html
Fee
None
Competitive
No
Level of challenge
Easy to Medium. Not competitive. More of Math Enrichment at home
Coaching
At Home (Guardians/Parents)
Confidentiality of Questions
None
Contact
mathchallenge@curtnerpta.org
Sincerely,
Curtner Math Challenge Team
We need your approval to pass this year's budget.  Please join us!
This is an important meeting.  We will be voting to pass the budget at this meeting.
Wednesday, September 9, 2020
6:00 PM - 7:00 PM
Always grateful for your support!
Curtner Elementary PTA's Mission
To make every Curtner Elementary student's potential a reality and to positively impact every one of their lives, and those of their families.
Show your support and join the PTA.
(Volunteering is not required)
Always grateful for your support. 
Thank you!